How to… rent out your garage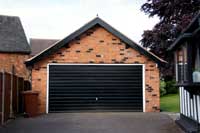 One of the easiest ways to make some extra cash each month with little effort is to rent out your garage or parking space. More people than you might think would be happy to pay rent for a extra garage spot to protect their classic car, park for their daily commute, or store their motorcycle.
What you'll need:
Clean, organised garage
Permission from your landlord (if applicable) to rent out your garage or parking space
Our parking agreement contract (made available once the booking has been completed)
Step by step guide
Prepare the Garage

Take an afternoon and clean the garage inside and out. If possible, throw out all the unnecessary rubbish and junk. Remove anything else and store it in the attic, basement or shed of your house. Hose down the floor and remove all cobwebs, protruding nails, etc. Confirm the garage door opener functions properly and the door opens smoothly. You want to have a clean, organized garage to make a good impression on a potential renter. It may make the difference of 10-20% of the agreed price.

Determine the Monthly Rent

Check what other garages and parking spaces are going for in your area. Type your postcode in to the JustPark search box at the top of the page and you will see what the going rate is in your area and the facilities they offer. You could also ask a neighbour what they might expect to pay, and use common sense considering your location and the cost of local commercial operated car parks. Large city garage spaces may rent for £150 per month and up, whereas suburban spots may rent for £50-100/month. Like every property rental decision, it is all about "location, location, location". When deciding what rent to charge, don't be greedy. If you offer a good, fair asking price for your garage space, you are more likely to find a trustworthy renter nice and quickly.

Advertise

List your garage for rent on JustPark and make sure your advert describes the garage space, location, price and any additional facilities offered including electricity, lighting, etc.

Home and business owners are already renting out their garages in London, Leeds, Liverpool and Manchester as well as numerous other cities around the country.

Show the Garage

When you receive an enquiry about your garage or parking space for rent, answer their question truthfully and as fully as possible. If people make an effort to come and look at the space, it is likely that they will rent it and have accepted in their mind that they will pay the rent you are asking.

Close the Deal

It is likely that the renter will try and negotiate the price. Be prepared to explain how you came up with your price and if they still want a discount, you should be prepared to give them £5-10 off per month. Otherwise, offer to give a 10-15% discount if they pay for a whole year up front. Once you have agreed on the pricing and the contract length, make sure the booking is completed online and that you download and print off the parking agreement contract that is provided. If you would like to receive a deposit, make sure that you collect it before handing over any keys or electronic opening devices.

Sign the Contract

JustPark provide a parking agreement contract for both you and the driver. The contract will state the payment terms, when the rent is due, how it is to be paid and for how long (month to month is typical). A signed contract is necessary for legal and peace of mind reasons.

Finish the details

JustPark collects the first month's rent and will set up the recurring payments on your behalf. All that is then needed from you is to explain how the garage door opener works and any rules/regulations/requests that are applicable.
For more information and advice about renting out your parking space please have a look at some of the following related pages:
This parking information guide was written and produced by JustPark. For more information about JustPark and to find out how you can make money from renting out your parking space, please visit /.
Need some more help?
If you have any questions you can't find an answer to in our comprehensive FAQ section, then please don't hesitate to get in touch.